Let's talk details, shall we?
Whether this is the first time we have worked together, or you are a past "Emily Kay Studio" client, I am so glad you are here! I would love the opportunity to photograph your family!
My style is relaxed, the session is fun, and I will be sure to capture memorable moments for your family to cherish for years to come! As a mother, I have a new perspective on how quickly the time truly goes, and how important it is to document this season of life! Every single family has a journey and a story that can be told, it would be an honor to meet you, learn your story, and help you share it.
I am currently booking Indoor Lifestyle Family Sessions, Outdoor Family Sessions (May-November), Fresh 48 Hospital Sessions, and Adoption Stories. If you feel that your need does not fit into one of those categories, feel free to shoot me an e-mail and we can discuss options!
Please note, I will only be taking a small number of clients per month. This is to ensure the highest quality and time to be devoted to each session and their end product.
Each session will be carefully edited and returned to the client in an online gallery within two weeks of the session. Products and digital files will be delivered when the entire payment is complete.
Indoor Lifestyle Session
Maybe you are looking for something a little less posed, and a little more real life. In my indoor lifestyle sessions, I will come into your home for 1-2 hours and photograph your family in their element. Let the kids show me their rooms, break out a board game, and stretch out on the couch. Maybe you just had a baby and you would like to photograph the baby in a relaxed environment at home and in the nursery! Remove the stress of the perfect outfit and perfect location and just be you. I know you will look back on them and smile remembering exactly how things were during that season of your life!
Please contact me for detailed pricing.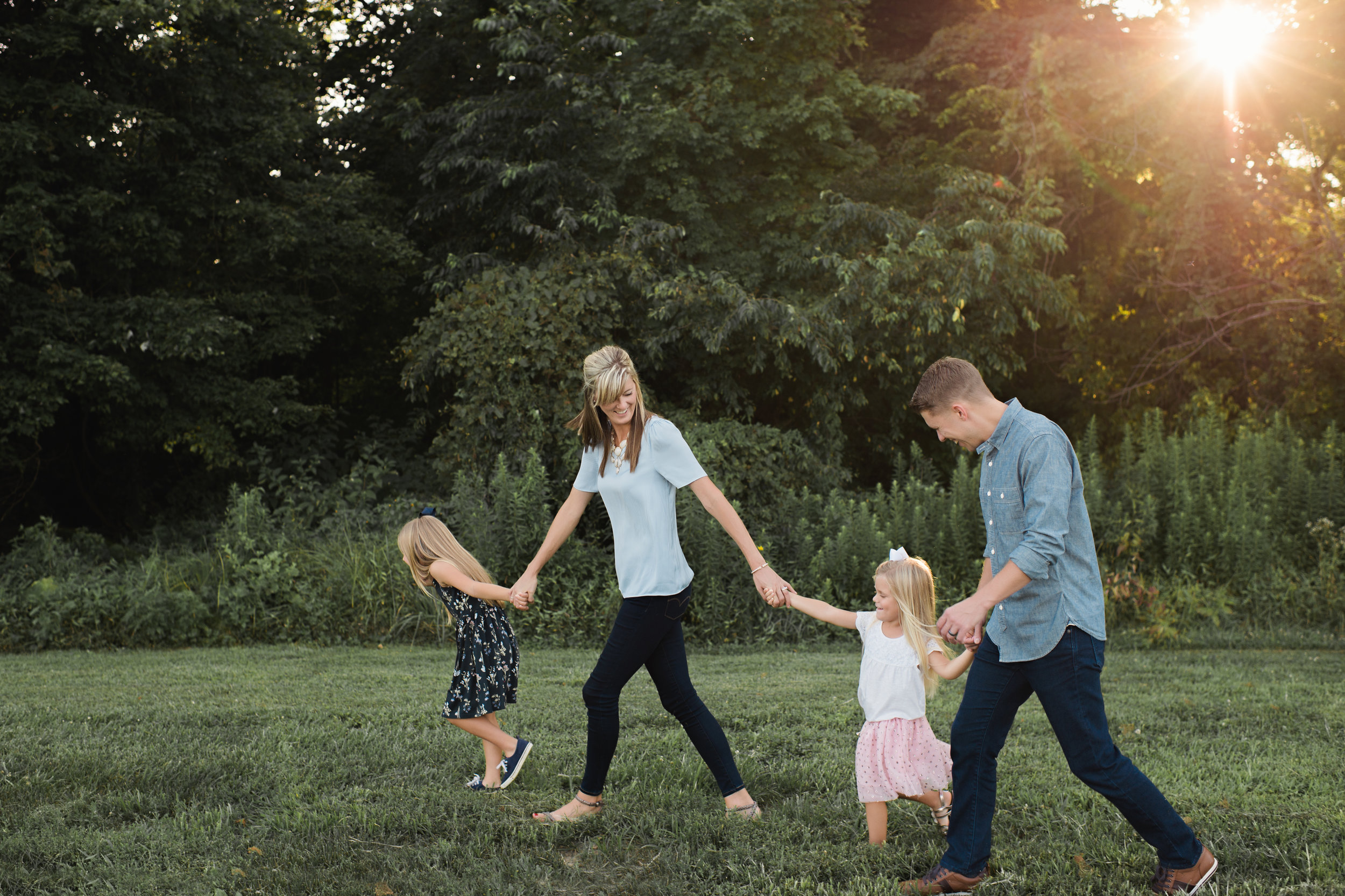 Outdoor Family Session
There isn't much like outdoor sessions where kids can run free and have fun! Outdoor sessions are typically right before sunset to get the perfect light in your images! Whether you would prefer a downtown modern vibe for your session, or rolling fields, we can pick the best place to suit you are your family's style! These sessions will be booked from May-November only.
Please contact me for detailed pricing.
Fresh 48 Session
I can hear some of you now. "What is a fresh 48 session?" This is a lifestyle type session where all of the details of your hospital stay with your newborn can be documented. I love the simplicity of the newborn curly baby in the white shirt and hospital hat, maybe a little swaddle in the bassinet, and some portraits of the new family addition with you! These sessions typically take 30-60 minutes.
Please contact me for detailed pricing.
If you are interested in booking a type of session that does not fit the above criteria, please contact me for availabulity and pricing.